By:
Kazune Kawahara, Aruko
Published:
July 1st 2014 by VIZ Media LLC (
first published March 23rd 2012
)
Paperback:
184 pages
Original Title:
俺物語!! 1
ISBN:
1421571447 (
ISBN13: 9781421571447
)
Series:
Ore Monogatari!! #1
Literary Awards:
Manga Taisho Awards (2013)
Goodreads Rating:
4.23 of 5 ★
Amazon Rating:
5 of 5 ★
Customer Reviews
"It's so nice to see that the strong male lead isn't the normal hot manga male cliché. ( You all know what I'm talking about -insert eye roll here-) Sure his best-friend is, but hell, he has the emotions of a rock. Well in the first volume at least. As I read more (volumes, I couldn't stop!), you get a better since of the best friend, and why they are so. .... " - E.A.Walsh (me)

"My Love Story is one of the best shoujo manga I have ever read!! Takeo Gouda is not your typical bishounen protagonist with a charming personality, noooo, you have a macho man with a variety of funny facial expressions but a sweet, caring personality. His character basically says "Don't judge a book by its cover." And soon a girl named Rinko Yamato will soon find out. This manga has everything that a heart hungers for. Love, friendship, comedy, and trust. I especially love the friendship between Takeo and Sunakawa....." - ShoujoManiac

"I haven't been so hooked on a manga right out of the gate since Ranma 1/2's heyday in the late 90s. Incredible, incredible, story! A perfect fusion of touching romance, friendship, and comedy. I laughed out loud about as much as I was in tears...this freaking manga moved me to TEARS. SO GOOD. ,...." - Comic-Books


Series Synopsis
The story follows Takeo Gōda, a tall and muscular student who doesn't have much luck with women, as every girl he likes ends up falling for his handsome best friend, Makoto Sunakawa. This all changes when he meets Rinko Yamato, a petite shy girl who, above all other expectations, falls in love with Takeo, beginning a unique love story.
About This Series
My Love Story!!
(
Japanese: 俺物語!! Hepburn: Ore Monogatari!!
) is a Japanese manga series written by
Kazune Kawahara
and illustrated by Aruko. The manga is currently being serialized in
Shueisha's
Bessatsu Margaret
magazine and is published in English by
Viz
Media. A television anime adaptation by Madhouse began airing in April 2015 and a live action film adaptation will also be produced.<- (
So excited about that!!
)
Manga
The series debuted as a 100-page special in Bessatsu Margaret Sister in October 2011 before becoming serialised in Bessatsu Margaret. The first volume was released by Shueisha on March 23, 2012 and the eighth volume was released on March 25, 2015. Viz Media licensed the series and released the first volume on July 1, 2014. The fifth volume is scheduled for release on July 7, 2015.
Anime
In November 2014 it was announced that the series was being adapted into an anime series. The anime will be directed by Morio Asaka at Madhouse, with Natsuko Takahashi as the script writer and Kunihiko Hamada as the character designer.The anime began airing on NTV from April 8, 2015 and is being simulcast by
Crunchyroll
on Wednesdays. The opening theme is "Miraikei Answer" (未来形 Answer lit. Futuristic Anwer) by Trustrick while the ending theme is "Shiawase no Arika" (幸せのありか lit. "Where Happiness Lies") by Local Connect. The soundtrack is composed by
S.E.N.S. Project.
Reception
This manga won the award for Best Shōjo Manga at the
37th Kodansha Manga Awards.
It was number one on the Book of the Year list of Female-Oriented Comics from January to June, 2013 by Da Vinci magazine and number five in the annual list of 2012. It was also nominated for the
6th Manga Taishō.
In
Takarajimasha's
2013 edition of the guidebook,
Kono Manga ga Sugoi!
, in a survey with more than 400 manga professionals, My Love STORY!! was selected as the best series for female readers. In the 2014 edition, it was the 15th best.
The fifth volume was the 53rd best-selling manga volume of the first half of 2014.My Love STORY!! was also nominated for the 18th Annual
Tezuka Osamu Cultural Prize
"Reader Award".
Live Action Film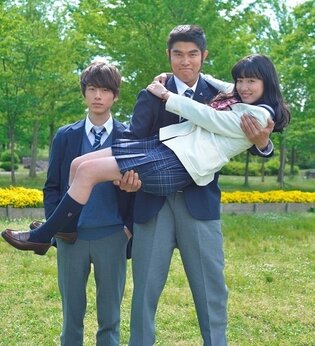 Last month it was announced that My Love STORY!! will be getting its own live action film adaptation. Can't say I didn't sqee when that flashed on my Twitter feed. As I was googling today, I found that a October 31st release date has been set for Japan. So about six months to a year after that, we'll get a subtitled version.
So far the main cast and crew has been set.
Ryohei Suzuki
(
Gatchaman
) as Takeo Gōda (
Center in photograph
)
Mei Nagano
(
Rurouni Kenshin
) as Rinko Yamato (
right
)
Kentarō Sakaguchi (
Umimachi Diary
) as Makoto Sunakawa (
left
)
From what I have read, Suzuki, who is playing Takeo, followed his own training regimen to gain 30 kg (
over 60 pounds
) of weigh to portray the two-meter-tall (
6.5 feet
), about 120-kg (
260 pounds
) Takeo Gōda. Impressed.. Yes.. I like committed actors. That is to say, not all anime/manga-to-film, even Japanese, turns out to be amazing, though I was quite satisfied and impressed with
Rurouni Kenshin
. Fingers crossed.
Below is a little blurb about the file works.
The film project is helmed by Hayato Kawai (Suzuki Sensei), working off of scripts written by Akiko Nogi (Library War). The film is slated to premiere in Japanese theaters on October 31.
I'll be keeping track of this one, so far little has been release about the film itself, and the screen-play. I just hope it isn't rushed, as the release date is only four months away
About the Author
KAWAHARA Kazune (河原和音)
At 18, debuted with "
Kare no Ichiban Sukina Hito
" Her hobby is interior redecorating. Also, while thinking of her manga, she often spaces out and brings grocery baskets home. She Adores her nieces.
To Buy:
|Amazon|
REF
https://en.wikipedia.org/wiki/My_Love_Story!!
http://www.animenewsnetwork.com/news/2015-05-25/live-action-ore-monogatari-......
https://www.goodreads.com/author/show/863561.Kazune_Kawahara
http://www.crunchyroll.com/anime-news/2015/05/26/32-year-old-ryohei-...
https://en.wikipedia.org/wiki/Kazune_Kawahara
https://www.goodreads.com/book/show/18775475-my-love-story-vol-1?ac=1
http://www.amazon.com/My-Love-Story-Vol-1-ebook/dp/B00LBHA75O/ref=sr_1_1?s=digital-text&ie=UTF8...