Falling Leaves Don't Weep
Author:
Joshua Blum
Published:
March 18th 2015 by Smashwords Edition
ISBN13:
9781310543517
Goodreads Rating:
4 of 5 Stars
Amazon Rating:
4 of 5 Stars
"Mr. Blum once again painted an extraordinary picture of fall colors and falling leaves. His skill that creates such lucid images, in so few words, carries on as he draws us deeper into the depressed world that is the kings." - Emily
Book Synopsis
In this psychological short story, an elderly king reflects on a restless life of self-absorption, hedonism, and dissatisfaction with the present after falling leaves blow into his bedroom one night when he's unable to sleep. Although meant to stand alone, it is an epilogue to the novel, The Thirteenth Hour," written by the same author. Approximately 2,240 words.
| Amazon | Smashwords |
A Shadow In The Moonlight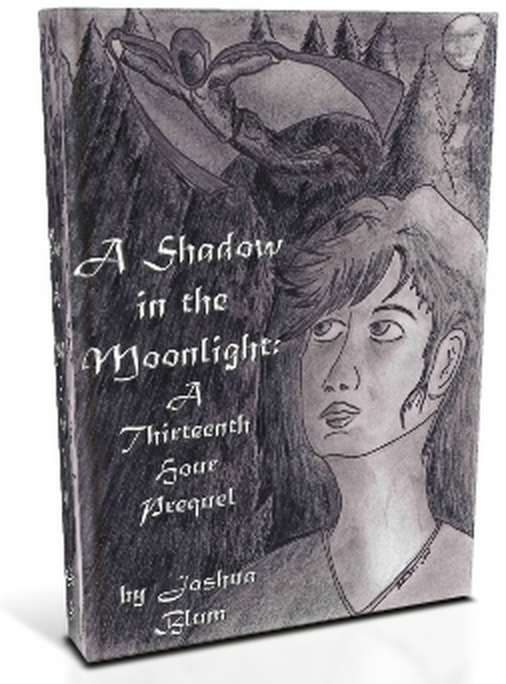 Author:
Joshua Blum
Pages:
54
Published:
March 19th 2015 by Smashwords Edition
ASIN:
B00UZ86Y0M
Edition language:
English
Goodreads Rating:
4 Of 5 Stars
Amazon Rating:
4 of 5 Stars
"In those short pages he manages to paint a vivid pictured that sets the right building blocks to get our minds run wild. I had no trouble picturing the landscape that he painted, nor was I ever confused."- Emily
Book Synopsis
A gothic novelette about a young hunter who accidentally interrupts a wizard's spell which literally turns him into a living shadow, only able to venture into the world by night. He is doomed to spend the rest of eternity haunting the area where he was enchanted, hunting an elusive, ethereal deer night after night. Although his night vision becomes enhanced, and he is able to soar through the air with a shadow's weightlessness, interactions with other people leave him with such intense anxiety that he has no choice but to avoid them altogether. Help and danger collide when he encounters an injured runaway, whom he decides to help, despite the personal pain it causes. A stand alone prequel to the novel, "The Thirteenth Hour," by the same author. Approximately 11,000 words.
| Amazon | Smashwords |
About The Author
A child of the 80s, Joshua Blum, like many other people, remembers wishing he had Marty McFly's hoverboard from "Back to the Future 2" to ride to and from school. For awhile, he wanted to be an American Indian hunter and spent many a misspent day making bows and arrows out of tree branches, ultimately leading to a love of archery which continues to this day. After entering that penal colony known as middle school, he decided that he ought to learn to defend himself, leading to the wide world of martial arts and lots and lots of push-ups, both of which he enjoys to this day.

All of these elements were inspirations for aspects of "The Thirteenth Hour," which he wrote after finishing high school and edited little by little until the present day - in effect growing up with the characters. During this time, he was educated at Princeton and Penn State Universities. In total, he estimates having spent 23 years of his life in school (give or take). Despite that rap sheet, he still enjoys learning new things. He credits his mother for instilling in him a love of literature, music, and yard sales. He credits his father for teaching him to do, you know, manly things, like hit a baseball, ride a bike without falling over, and most importantly, never give up on the important things in life. He credits his younger brother for helping him stay young at heart.

He currently enjoys spending time with his wife and daughter. Although not surprising given the decade in which he grew up, he still enjoys breakdancing, though he will admit the bruises take longer to go away now that he can no longer consider himself a young adult. He hopes to forever avoid corporate middle management and is currently at work on a graphic novel for adolescents as well as a sequel to "The Thirteenth Hour." He hopes it does not take sixteen years to finish.