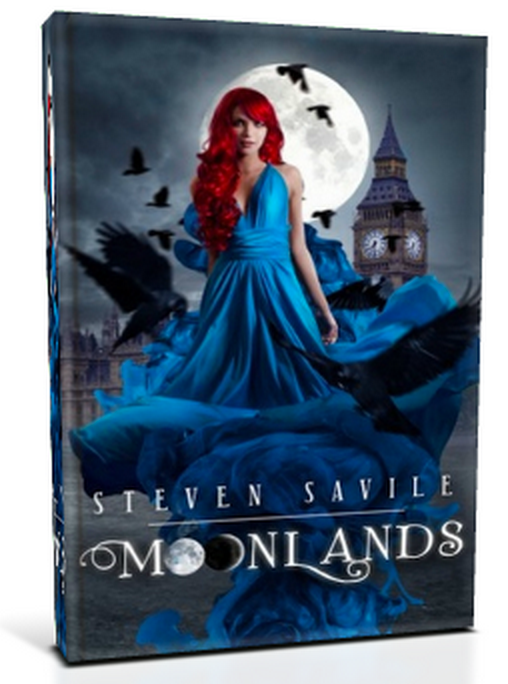 Expected publication:
April 15th 2015
(first published March 15th 2013)
Paperback:
484 pages
Original Title:
Moonlands
ISBN:13
9781508566045
Edition language:
English
Goodreads rating:
3.50 of 5 Stars
Amazon Rating:
5 of 5 Stars
Customer Reviews

"I was drawn to this book by its beautiful cover, what I didn't expect was to be totally blown away by the beautiful story inside. Steven Savile really is a master at weaving a fantastically fun, entertaining story." - K. Allenby

"The world of the Moonlands was described masterfully. It was like Steven Savile had personally been there and I was reading first hand accounts. It made me wanted to go there and see that exquisite world myself. I hung on every world, every detail no matter how small. There is a pureness about that world, one we hardly ever see in our concrete jungles. Magnificently Dangerous." - Emily-Ann

"I was initially grabbed by this incredibly imaginative story and it held me for quite a while; I found as the story progressed so did it's pull." - Beth
Synopsis
Ashley Hawthorne thinks of herself as the Cuckoo Girl. No matter where she is it feels like she doesn't quite belong.

Everything changes when her eccentric aunt, Elspeth Grimm, leaves her the key to a safety deposit box in a bank that was destroyed during the Blitz. That box contains the first part of her true inheritance: an umbrella, a battered old notebook, a pair of aviator's goggles and a locket. Each of these gifts is a unique part of who she really is.

Elspeth is a Grimm, a descendent of the brothers who purged this world of monsters by trapping them within the Concord. She is the Oracle. A keeper of all the knowledge we have amassed about the creatures of the Fae and other worlds. And someone intent on destroying the Concord has murdered her!

When Ashley looks through the goggles that night she sees curious creatures on the roof of the house across the street watching her. To the naked eye they look like crows but they are not. It is the first glimpse of the other place—the place where she will finally belong.

The journal is crammed full of things, but there's no actual writing in it. Ash decides she's going to use the book as a journal, and begins the first entry: My name is Ashley Hawthorne. The ink fades so she writes it again. My name is Ashley Hawthorne. Again the ink fades. She tries again and again until the ink scratches out an entirely different first line: That is not who you are!

Click Here For my Review

Get Your COPY TODAY
|Amazon | Barnes & Noble| Chapter.Indigo| iTunes/iBooks | Smashwords|
About This Author
STEVEN SAVILE has edited a number of critically acclaimed anthologies and collections, including Elemental for Tor Books in the US, Redbrick Eden and, most recently, the Doctor Who anthology Destination Prague as well as Smoke Ghost & Other Apparitions and Black Gondolier and Other Stories, the collected horror stories of Fritz Leiber.

Steven is also the author of the Von Carstein Vampire trilogy, Inheritance, Dominion and Retribution, set in Games Workshop's popular Warhammer world, collected together in the Vampire Wars omnibus, and has re-imagined the blood-thirsty celtic barbarian Slaine from 2000 AD in a new duology of novels for Black Flame. Steven has written for Torchwood, Stargate SG-1, Primeval, Star Wars and Jurassic Park as well as his own novels and short stories, including Houdini's Last Illusion (Telos) and Angel Road (Elastic Press).

His novel SILVER is due from Variance Publishing in the US in January 2010 and across the world in lots of different languages soon after.

In his copious spare time, Steven… erm… writes… He was a runner up in the British Fantasy Awards, and a winner of a Writers of the Future Award in 2002, as well as the International Association of Media Writers Award for his Primeval novel.