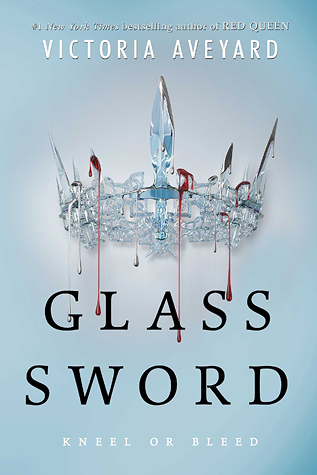 By:
Victoria Aveyard
My rating:
★ ★ ★ ★ ☆
Add To Goodreads
I finally finished, not because the book was bad, no, it was too good for me to want to end it. The third book isn't being released until next year, and I didn't want to have too much of a wait.
Oh Mare, what the hell have you done with yourself? If you read my
review of Red Queen
you are well aware that I didn't quite like Mare as the main protagonist. And I still don't. True she did latch onto me like a leach in this instillment, but I still wasn't feeling her as the all hero. If anything she went backwards as the story went forward. She let her weakness for Maven overcome her better judgement (
leave it to men to fuck with a girls head..this works vise-versa was well
.) Do I feel like she made the right choices? In some cases yes and in others no. She was too close to this and she should have taken a step back at once point and weigh her objections.
What did like about her? Well the one thing that got me to form somewhat of a attachment was that when she mad a decision, she stuck with it. I have to gives props for her not backing down from her own.
I got to say, at the end, I wasn't expecting one of the loses to happen, in truth I was expecting this person in for the long hall. He was a great character and I don't believe he should have been killed off.
I loved Cal in this book, the mockery of what he had to go through, the prince without a kingdom, as Mare calls him
The prince of nothing
. He stood strong, proud and did everything he could to do what he believes is right, even if it went agents everything he was raised to believe in. Again, I feel as if Cal was the true star, Mare is simply a face to a cause, he is the one leading it. Again I believe this book should have had split POV's to showcase what Cal is going through.
As I said in my last review, the world building and detail is outstanding, and I don't need to tell you again how much I believe Victoria Aveyard's wiring is pure magic. All you have to do is read her books to know what I'm saying.
Ending, what a cliffy. The soul reasons why I didn't want to finish this book, but damn it, it was sitting there stirring at me. Now I have to sit back and wait for the next book, as my mind runs wild with all the fun possibilities.
I highly recommend this series. It's a breath of fresh air. This isn't your grand-mothers YA. This is on a different plain, gone are the insta-love and cliché that smother YA's. This book has created it's own.
Happy Reading
-
E.A. Walsh