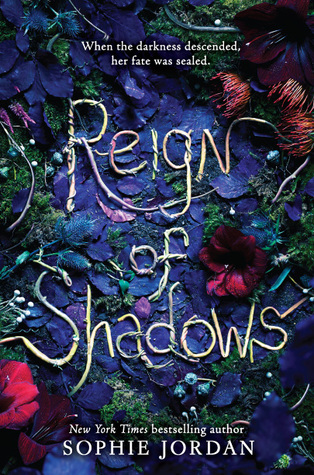 By
:
Sophie Jordan
Published:
9th Feb 2016
Rating:
★★★. 63
Pages:
304
Buy: Amazon | Barnes & Noble | Chapter.Indigo | Apple |
Seventeen years ago, an eclipse cloaked the kingdom of Relhok in perpetual darkness. In the chaos, an evil chancellor murdered the king and queen and seized their throne. Luna, Relhok's lost princess, has been hiding in a tower ever since. Luna's survival depends on the world believing she is dead.
But that doesn't stop Luna from wanting more. When she meets Fowler, a mysterious archer braving the woods outside her tower, Luna is drawn to him despite the risk. When the tower is attacked, Luna and Fowler escape together. But this world of darkness is more treacherous than Luna ever realized.
With every threat stacked against them, Luna and Fowler find solace in each other. But with secrets still unspoken between them, falling in love might be their most dangerous journey yet.
With lush writing and a star–crossed romance, Reign of Shadows is Sophie Jordan at her best.
I picked this book up at the local library as the cover caught my eye in passing and boy am I glad I did! I read this book quickly. It was a real page turner and not something I anticipated enjoying as much as I did.
What I liked about the book:
• It's told from a split first person point of view. I've always liked having both mains POV's throughout books. It gives you a perspective into the others mind instead of wondering what they're thinking at a certain time.
• There's a romance but it isn't insta-love. While we all love to live in the fantasy of our book, I have grown a distaste for the insta-love that tends to happen between characters in most YA books you come to read. While the Luna and Fowler are intrigued by one another, and you can tell they have feelings, there is no "I can't live without you" from the moment they lay eyes on one another.
• The main character is quite badass! Who doesn't love it when a female can kick ass! And all while having a disability that in this fantasy world may render others useless, she thrives!
Our main character, Luna, lives her life in a remote tower with her parental guardians (Perla and Sivo), in a forest no one dare enter. The world is in a total darkness except for one hour a day, midlight. And outside of midlight you need to watch out for dwellers, which zombie like creatures. The detail in which Jordan writes really makes you feel as though you are one with the story. You can smell what Luna smells, and hear as though you are next to her.
Insert love interest, Fowler, who is intrigued by Luna but doesn't want to be. He fights his feelings for a long time (or at least long by YA norms). The two don't actually progress until near the end of the book.
When I finished this book, I immediately googled the publication date for the follow-up book Rise of Fire. Sadly it isn't until February 2017. Jordan's world of fantasy has intrigued me to the point of no return and I must learn what happens to Luna, to Fowler, Perla, Sivo and of course the murderous King of Rehlok.
-Jill
One Person Will Win A Hard Cover Copy Of Reign of Shadows
Giveaway Opened To UA & Canada Only
Giveaway Will Run From The 17-22nd July
a Rafflecopter giveaway
Sophie Jordan took her adolescent daydreaming one step further and penned her first historical romance in the back of her high school Spanish class. This passion led her to pursue a degree in English and History.
A brief stint in law school taught her that case law was not nearly as interesting as literature - teaching English seemed the natural recourse. After several years teaching high school students to love Antigone, Sophie resigned with the birth of her first child and decided it was time to pursue the long-held dream of writing.
In less than three years, her first book, Once Upon A Wedding Night, a 2006 Romantic Times Reviewers' Choice Nominee for Best First Historical, hit book shelves. Her second novel, Too Wicked To Tame, released in March 2007 with a bang, landing on the USA Today Bestseller's List.